Famous Last Words
Class:

All Classes

Faction:

All Factions

Level:

All Levels

Item Links: Quicklink (copy this): Feedback: Feedback-Thread

This daily mission has absolutely nothing to do with fighting but instead will satisfy your hunger for literature, novels, and gossip.

Gloria Tenebrai, the renowned author of "Phil & the Gofles" lost her manuscript while she was boarding her shuttle. The pages are now scattered across the city of Home in Broken Shores. Your quest is to find six pages and bring them back to the agency receptionist.



You should really read the quest description and the manuscript pages at least once during your toon's life on Rubi-Ka.



The place to start with your search is clearly marked on your map. The pages are scattered in various places around the marker and will respawn fairly quickly after you've picked them up.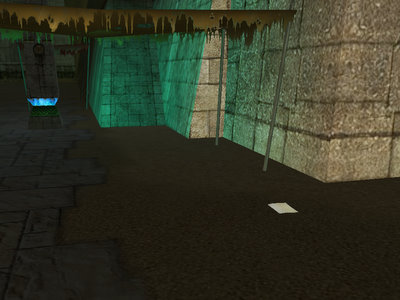 Note that the pages are unique so you have to find all six different pages.

Return the correct pages to the agency receptionist and you'll get your reward.


Many people find this mission extremely frustrating, mainly due to the inability to find the last page or two. Here are some hints that will help:

Hints:

Read the pages! On the one hand some of them are really funny. On the other hand some of them are not part of Gloria's manuscript...

If there is nobody else also doing the daily mission at the same time as you, then pick up every single page you find, even if you already have it. (Causing a page that you already have to disappear of the ground and forcing it to "respawn" which gives you the chance of getting a page you need next time rather than just having the same page sit there.)

There are pages on the ground, but also up in the terraced walkways of the buildings against the crater. Make sure your search path includes those areas too.


For your convenience, here are some waypoints you can use quickly find the pages:


Phil & the Gofles page location #1

Broken Shores - 677.3x1489.9




Phil & the Gofles page location #2

Broken Shores - 677.3x1489.9




Phil & the Gofles page location #3

Broken Shores - 683.7x1490.5




Phil & the Gofles page location #4

Broken Shores - 685.0x1485.0




Phil & the Gofles page location #5

Broken Shores - 702.0x1483.0




Phil & the Gofles page location #6

Broken Shores - 710.5x1490.7




Phil & the Gofles page location #7

Broken Shores - 700.0x1504.0




Phil & the Gofles page location #8

Broken Shores - 688.0x1505.3




Phil & the Gofles page location #9

Broken Shores - 668.0x1512.0




Phil & the Gofles page location #10

Broken Shores - 664.9x1497.9




Phil & the Gofles page location #11

Broken Shores - 665.0x1497.0




Phil & the Gofles page location #12

Broken Shores - 661.0x1479.0




Phil & the Gofles page location #13

Broken Shores - 669.0x1478.1




Phil & the Gofles page location #14

Broken Shores - 677.0x1465.0




Phil & the Gofles page location #15

Broken Shores - 669.6x1456.4




Phil & the Gofles page location #16

Broken Shores - 665.0x1450.0




Phil & the Gofles page location #17

Broken Shores - 644.0x1478.0




Phil & the Gofles page location #18

Broken Shores - 642.6x1480.2




Phil & the Gofles page location #19

Broken Shores - 629.0x1481.0




Phil & the Gofles page location #20

Broken Shores - 617.6x1483.5




Phil & the Gofles page location #21

Broken Shores - 605.3x1481.5




Phil & the Gofles page location #22

Broken Shores - 607.8x1474.0




Phil & the Gofles page location #23

Broken Shores - 610.0x1462.0




Phil & the Gofles page location #24

Broken Shores - 591.0x1480.0




Phil & the Gofles page location #25

Broken Shores - 590.0x1490.0




Phil & the Gofles page location #26

Broken Shores - 598.0x1508.0




Phil & the Gofles page location #27

Broken Shores - 593.8x1512.2




Phil & the Gofles page location #28

Broken Shores - 598.7x1522.9




Phil & the Gofles page location #29

Broken Shores - 609.0x1520.0




Phil & the Gofles page location #30

Broken Shores - 615.7x1516.1




Phil & the Gofles page location #31

Broken Shores - 622.1x1514.1




Phil & the Gofles page location #32

Broken Shores - 644.6x1518.2




Phil & the Gofles page location #33

Broken Shores - 642.9x1541.7




Phil & the Gofles page location #34

Broken Shores - 649.7x1545.9




Phil & the Gofles page location #35

Broken Shores - 661.0x1553.0




Phil & the Gofles page location #36

Broken Shores - 681.0x1556.0




Phil & the Gofles page location #37

Broken Shores - 623.0x1549.0




Phil & the Gofles page location #38

Broken Shores - 621.8x1546.6




Phil & the Gofles page location #39

Broken Shores - 620.3x1540.7




Phil & the Gofles page location #40

Broken Shores - 612.5x1543.0




Phil & the Gofles page location #41

Broken Shores - 601.2x1535.8




Phil & the Gofles page location #42

Broken Shores - 592.7x1540.7




Phil & the Gofles page location #43

Broken Shores - 584.0x1532.0




Phil & the Gofles page location #44

Broken Shores - 579.3x1538.2




Phil & the Gofles page location #45

Broken Shores - 550.1x1548.6


Or you can create a script with the following contents:



/text Famous Last Words Waypoints: <a href="text://01: <a href='chatcmd:///waypoint 677.3 1489.9 665'>677.3 1489.9</a><p>02: <a href='chatcmd:///waypoint 677.3 1489.9 665'>677.3 1489.9</a><p>03: <a href='chatcmd:///waypoint 683.7 1490.5 665'>683.7 1490.5</a><p>04: <a href='chatcmd:///waypoint 685.0 1485.0 665'>685.0 1485.0</a><p>05: <a href='chatcmd:///waypoint 702.0 1483.0 665'>702.0 1483.0</a><p>06: <a href='chatcmd:///waypoint 710.5 1490.7 665'>710.5 1490.7</a><p>07: <a href='chatcmd:///waypoint 700.0 1504.0 665'>700.0 1504.0</a><p>08: <a href='chatcmd:///waypoint 688.0 1505.3 665'>688.0 1505.3</a><p>09: <a href='chatcmd:///waypoint 668.0 1512.0 665'>668.0 1512.0</a><p>10: <a href='chatcmd:///waypoint 664.9 1497.9 665'>664.9 1497.9</a><p>11: <a href='chatcmd:///waypoint 665.0 1497.0 665'>665.0 1497.0</a><p>12: <a href='chatcmd:///waypoint 661.0 1479.0 665'>661.0 1479.0</a><p>13: <a href='chatcmd:///waypoint 669.0 1478.1 665'>669.0 1478.1</a><p>14: <a href='chatcmd:///waypoint 677.0 1465.0 665'>677.0 1465.0</a><p>15: <a href='chatcmd:///waypoint 669.6 1456.4 665'>669.6 1456.4</a><p>16: <a href='chatcmd:///waypoint 665.0 1450.0 665'>665.0 1450.0</a><p>17: <a href='chatcmd:///waypoint 644.0 1478.0 665'>644.0 1478.0</a><p>18: <a href='chatcmd:///waypoint 642.6 1480.2 665'>642.6 1480.2</a><p>19: <a href='chatcmd:///waypoint 629.0 1481.0 665'>629.0 1481.0</a><p>20: <a href='chatcmd:///waypoint 617.6 1483.5 665'>617.6 1483.5</a><p>21: <a href='chatcmd:///waypoint 605.3 1481.5 665'>605.3 1481.5</a><p>22: <a href='chatcmd:///waypoint 607.8 1474.0 665'>607.8 1474.0</a><p>23: <a href='chatcmd:///waypoint 610.0 1462.0 665'>610.0 1462.0</a><p>24: <a href='chatcmd:///waypoint 591.0 1480.0 665'>591.0 1480.0</a><p>25: <a href='chatcmd:///waypoint 590.0 1490.0 665'>590.0 1490.0</a><p>26: <a href='chatcmd:///waypoint 598.0 1508.0 665'>598.0 1508.0</a><p>27: <a href='chatcmd:///waypoint 593.8 1512.2 665'>593.8 1512.2</a><p>28: <a href='chatcmd:///waypoint 598.7 1522.9 665'>598.7 1522.9</a><p>29: <a href='chatcmd:///waypoint 609.0 1520.0 665'>609.0 1520.0</a><p>30: <a href='chatcmd:///waypoint 615.7 1516.1 665'>615.7 1516.1</a><p>31: <a href='chatcmd:///waypoint 622.1 1514.1 665'>622.1 1514.1</a><p>32: <a href='chatcmd:///waypoint 644.6 1518.2 665'>644.6 1518.2</a><p>33: <a href='chatcmd:///waypoint 642.9 1541.7 665'>642.9 1541.7</a><p>34: <a href='chatcmd:///waypoint 649.7 1545.9 665'>649.7 1545.9</a><p>35: <a href='chatcmd:///waypoint 661.0 1553.0 665'>661.0 1553.0</a><p>36: <a href='chatcmd:///waypoint 681.0 1556.0 665'>681.0 1556.0</a><p>37: <a href='chatcmd:///waypoint 623.0 1549.0 665'>623.0 1549.0</a><p>38: <a href='chatcmd:///waypoint 621.8 1546.6 665'>621.8 1546.6</a><p>39: <a href='chatcmd:///waypoint 620.3 1540.7 665'>620.3 1540.7</a><p>40: <a href='chatcmd:///waypoint 612.5 1543.0 665'>612.5 1543.0</a><p>41: <a href='chatcmd:///waypoint 601.2 1535.8 665'>601.2 1535.8</a><p>42: <a href='chatcmd:///waypoint 592.7 1540.7 665'>592.7 1540.7</a><p>43: <a href='chatcmd:///waypoint 584.0 1532.0 665'>584.0 1532.0</a><p>44: <a href='chatcmd:///waypoint 579.3 1538.2 665'>579.3 1538.2</a><p>45: <a href='chatcmd:///waypoint 550.1 1548.6 665'>550.1 1548.6</a><p>">Click Here</a>