Lord Mordeth Sanctuary Key Quest
Class:

All Classes

Faction:

Neutral, Omni

Level:

190-220

Item Links: Quicklink (copy this): Feedback: Feedback-Thread

Already got your hands on the Lord Mordeth Garden Key?
Before you start on this quest, it is advisable to pick up:



Insignia of Lord Galahad

You will need these as you get to the last 3 mobs of this killing spree!

Note: if you are neutral, bring an omni friend to loot the insignias, as Ardent Nar Mord will not talk with neutrals.



You will be pleased to know, that in comparison to the Garden Key quest this is significantly easier and less time consuming! If you have literally just finished your garden key quest.. or at least finished it within the last few hundred days you should already have your quest in your "Missions" tab. If you do not already have the quest, lets go pick it up...



⇑

Garboil Hes Mord


Location:

Garden of Lord Mordeth, 445 x 523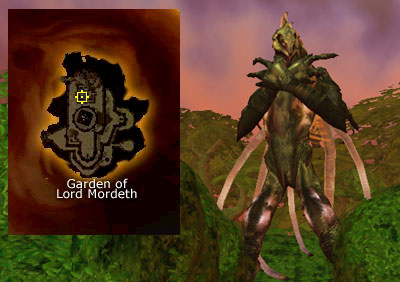 This big guy is the one to see and talk with. So, now you should now have your "kill person" mission, lets get started.



⇑

Things to Consider:




Make sure that those that will get the key (the kill team) are all on the same team, do not waste a spot on the kill team with anyone who does NOT need their key!





⇑

The Targets:








⇑

Name: Kuir-Afat, The Custodian




Location:

Inferno Frontier, 2504 x 2569


Level:

205






⇑

Name: Acolyte Gal Bela




Location:

Between the Portal and the Yutto Camp


Level:

200
Note: This guy can really wander!




⇑

Name: Sipius Gal Jha-Hume




Location:

Inferno Frontier, 2462 x 2628


Level:

200


Note:

There are 2 mobs of this name.
The second is a little further north at 2466 x 2644.






⇑

Name: Suir-Katan, The Custodian




Location:

Inferno Frontier, 2501 x 2526


Level:

210




⇑

Name: Suir-Afat, The Custodian




Location:

Sorrow, 1168 x 1440


Level:

215


⇑

Name: Suir-Shelet, The Custodian




Location:

Sorrow, 1218 x 1384


Level:

210


Click on the images to view the full size versions.

The last 3...
Now comes the tricky part where you are likely to need a little bit of help, particularly from a MP for NSD! If you are neutral you will also require some assistance from an Omni player as Ardent Nar Mord will not speak with you to allow you to feed the insignias to him in order to continue the spawning process.

Assuming you already picked up the insignias as advised at the beginning of this guide, it is time to make your way to the North West Redeemed Temple and head upstairs in to the second room. The northern room is your destination.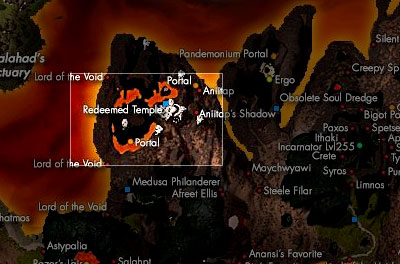 Hopefully, in this room you'll find Venerable Ecclesiast Gal Gil.

It is adviseable to clear the eastern end of the room from adds and do your killing work from here. This will give you the optimum chance of survival. Here are your targets in order of killing, an overview of tactics can be found below!





⇑

Name: Venerable Ecclesiast Gal Gil




Level: 215






⇑

Name: Empath Sir Gawain




Level: 230






⇑

Name: Redeemed Lord Galahad




Level: 255





When you have successfully killed the Ecclesiast, Ardent Nar Mord pops up and will help you if you give him the 6 Insignias of Lord Galahad. Once he has taken them, Empath Sir Gawain jumps into place with adds also spawning. Wait 7 minutes for the complete cycle of adds to spawn.

Note: If you pull during this time, these mobs will spawn on top of your raid party, so please wait!

After the 7 minutes, you can simply use an Aggression Enhancer or similar to pull the Empath from the group. If he happens to nuke you at range and you pull threat from the adds, simply hide behind a pillar and wait a moment before trying again.

Once the Empath is dead, this will then trigger Redeemed Lord Galahad to spawn. After waiting 7 minutes, use the same method using the aggression enhancer to pull him as detailed above.

Congratulations on your new garden key and nano program for your profession!





Last updated on 11.26.2021 by Saavick
Guide written by Ukblizzard and Uragon
Additional information provided by Niodemus
Do you have questions about this article or found an error? 4 comment(s) - Click here to view them!