Zoftig Blimp Vendor
Class:

All Classes

Faction:

All Factions

Level:

All Levels

Item Links: Quicklink (copy this): Feedback: Please Login first

If you like fashionable headgear (which also buffs your abilities a bit), then you should get to this vendor.



So where can he be found?


You'll need to travel to the outpost of Hope in Mort. This remote location can be either reached by Whom-Pah from Stret West Bank or Newland Desert.

Once at the outpost, keep your eyes peeled for a man named Zoftig Blimp who should be standing near the north west corner of the outpost.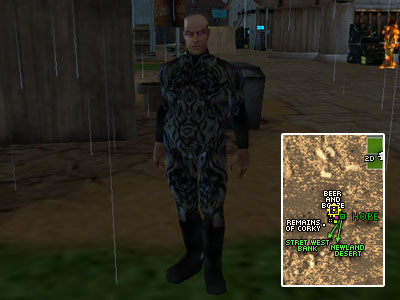 Right click on him to open his dialogue screen. You can chat to him if you like and he will tell you about himself. Once done you can click the shopping cart icon at the bottom of his dialogue screen. This will open his available stock (prices range from 10k to almost half a million credits).






Use your Shopping Cart icon wisely.





So what's he selling?


He has a nice stock of fashionable clothing available, which provide some minor ability bonuses.


| | |
| --- | --- |
| Item | Notes |
| Ancarim Sun Tan Lotion | Adds 1 to Agility Ability. |
| Amber Arcanum Specs | Adds 1 to Sense Ability. |
| Ruby Arcanum Specs | Adds 1 to Psychic Ability. |
| Sapphire Arcanum Specs | Adds 1 to Intelligence Ability. |
| Original Mentor's Straw Hat | Adds 5 to Dimach Skill as well as some ACs. |
| Salesman's Hat | Adds 5 to Computer Literacy Skill as well as ACs. |
| Rhysen's Carrier Cap | Adds 20 to Swimming and Run Speed Skills. |
| Eagle Eye Monocle | Adds 8 to Perception Skill. |
| Lollygagger's Monocle | Adds 8 to Breaking and Entry Skill. |
| Saboteur's Monocle | Adds 8 to Trap & Disarm Skill. |
| Latex Base | Bring this to Pulcinella at the glass dance floor in Reets Retreat to get A Simple Latex Mask, which is one of the items required to earn your Hyper-Radiation Protection Skin and Glasses. |




Note:

Always check the requirements of any item before you purchase it (move cursor over item, hold shift+left click).