Thin Bernice Vendor
Class:

All Classes

Faction:

All Factions

Level:

All Levels

Item Links: Quicklink (copy this): Feedback: Feedback-Thread

Thin Bernice is a far-off merchant that sells tank armor, battle suits, and ammo.



So where can she be found?




Thin Bernice

Perpetual Wastelands - 1050x2500

is located in the town of Sabulum in Perpetual Wastelands.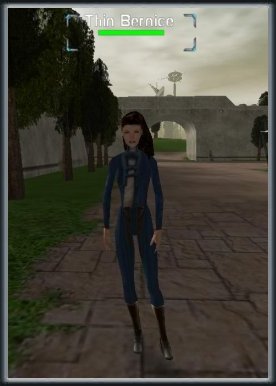 Her inventory consists of:





Her stock isn't cheap and if you are on a budget you'll need to kill a couple of dyna bosses or pull a mission with a battle suit as the reward. But since Bernice's stock is in various different QLs, she might be the girl to see if you're after a specific QL.

Note that you can overtune the Tank Armors to remove most of the penalties and provide great protection. The guide can be found here.



Note:

Always check the requirements of any item before you purchase it (move cursor over item, hold shift+left click).