Discuss the Article 'Embrace the Shadows' on this thread.To view this article, please
click here
.
---
---
---
Done this 'beast' a few times on different toons. A 'jillion' shadows and the loot is not all that easy to find. Here is what I have ended up doing that seems to work without the reclaim terminal kissing me 3 or 4 times.
Run almost due south from the second zone line (left side of valley) until passing a group of shadows then turn a bit left through the third zone line. Wearing a yalm, etc. lets you jump up at the third zone to safety. When clear below, log out.
Get higher toon to eliminate shadows at zone line that have followed you. they seem o aggregate for a long time.
Then, re-enter and turn left, staying in the valley bottom. Loot will be just past a small gap in the trees. Ahead on your local map are tons of shadows. 2 or 3 will be near by so be careful.
As to being 'not in aggro'- probably right although things do seem a tad murky on this. When mission bumps up run north through the zone into a mid area - between 1st and 2nd zones.
Dark in here so the glow in the dark aspect gets washed over by night vision.
Took awhile to get a grasp for this mission.

---
AOU Site Manager
Posts: 1778
Joined: Sun Aug 22, 2010 5:23 am
Location: Jobe Harbor
Contact:
Thanks!
It's always good when we can add more information to a guide

---
You guys (and gals) have done a magnificent job with this site- kuddos!!

---
I have updated the picture of the map to reflect the new layout of the area since the 18.7 patch. For nostalgia reasons I would like to preserve the original picture from Atlas of Rubi-Ka too: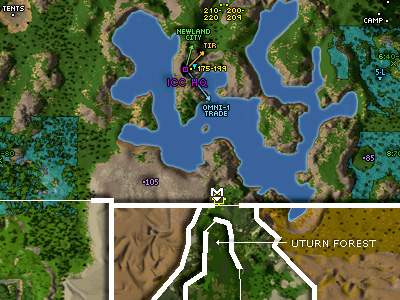 ---