Discuss the Article 'The Inner Sanctum' on this thread.To view this article, please
click here
.
AOU-Bot
---
Added new Re-Incarnator section.
---
I've updated the guide to make the following changes:
Removed the price indication for temporary IS passes. Prices aren't constant over time and it looked anachronistic.
Removed the old portal images and replaced them with Windcaller Karrec's portal.
Corrected the patch tag from 14.7.8 to 14.9.
Added a link to the guide about Arbiter Vincenzo Palmiero in the section about the Re-incarnator.
Added an updated map to include the new hidden room where the Re-incarnator is located.
For nostalgia reasons, I would also like to preserve the original map by the legendary Windguaerd: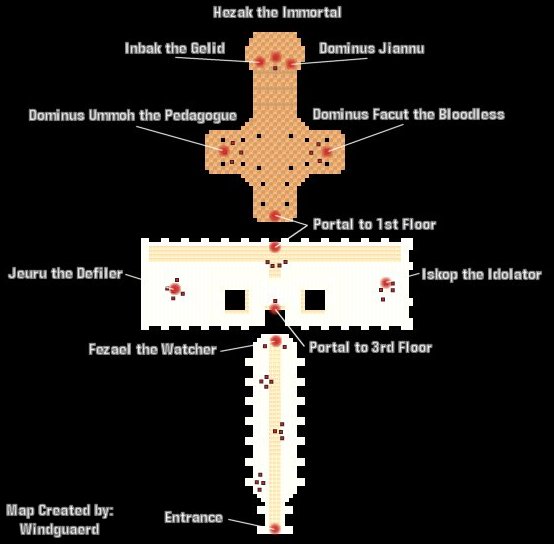 ---
A couple of updates for the loot tables:

"Dominus Ummoh the Pedagogue" can drop "Might of the Revenant"
"Dominus Facut the Bloodless" can drop "Corrupted Flesh"

Both confirmed drops today.
---
Thanks Avari, I have added those. I've also added the The Primeval Skull, Impious Dominator and Permafrost to Hezak's loot info.
---
Added Ring of Wilting Flame to the loot list for Dominus Facut. Thanks JohnJohnJohn for confirming the drop.
---
I've added a link to the new guide about
Funeral Urn Pets
.

---
AOU Content Editor
Posts: 290
Joined: Thu Feb 09, 2012 11:22 pm
Location: Pennsylvania, USA
revamped 90% of the guide to fit more recent changes as there were listed.
Reordered guided so it had better flow through.
Removed the paragraph regarding Darkest Sanctum. Added linked comment to its own guide.
Added links, waypoint, pics.
Corrected several incorrect actions that no longer apply for Inner Sanctum.
jacqueline of all trades, master of almost none

Im the "Give me a day or so....I'll learn, I'll fix and I'll do it" girl

Articles, Guides, Forums, News
AOU Staff Member
AOU Forum Moderator
AOU Content Editor
---