Thank you to everyone that participated! We broke some huge goals for the kids!
November 2nd edit: Just a few hours away. Get signed up or donate if you can!
Funcom is participating in this years Extra Life, an event to benefit children's charities. Players from all of the Funcom games are welcome to participate. You can click on the image below to read the details from Sezmra about signing up and how to participate, along with information on the charity they have chosen.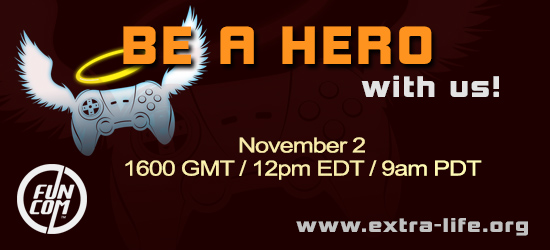 During the event, random drawings will take place and the participant drawn will be able to pick between two prizes. For AO players, the options are an Uberleet Pack or 1200 bonus Funcom points. An Extra Life t-shirt will also be given to qualified participants.
Many of us are joined together as part of the Funcom "team" so all of the donations to any of us will still go to that total. If you don't want to sign up for your own account (you won't be eligible for prizes) you can use our page to donate by clicking
HERE
(it's listed as Kellen Wood, not AO Universe).
If you end up using our link, let us know! I'm going to put together a special forum avatar for participants in recognition of their donation to a great cause. You can check the Funcom team page too, to see how much everyone has raised together, by clicking
HERE
!