Spirit Tech Source Fountains
Class:

Adventurer

Faction:

All Factions

Level:

All Levels

Item Links: Quicklink (copy this): Feedback: Please Login first

⇑

Introduction



If you're an adventurer, it probably feels like a natural thing to do to sit at a camp fire at the end of the day to rest and heal. You can make such a camp fire, or rather a high tech version of it, with help from the Yuttos. You can instead also spawn it with the Build Spirit Tech Source nano line, but this guide is specifically about the tradeskill process.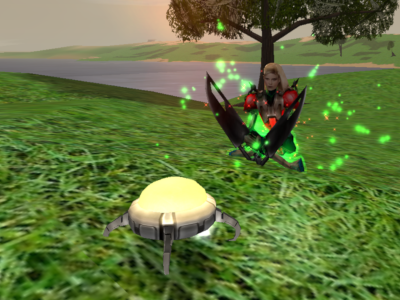 A Spirit Tech Source Fountain





⇑

Tradeskill Process



You'll need the following item:


Tool, not used up. You can buy this from Yuttos Tools vendors, for example at:



Yuttos Tools,

Mil, Nascense

Nascense Wilds - 356x1593



Yuttos Tools,

City South, Adonis

Adonis City - 1248x492



Wandering Toolmaker,

Yutto Marshes Inferno

Inferno Burning Marshes - 2468x1131


And one of:


| | |
| --- | --- |
| Item | Source |
| Boot Algae Sample | Unknown, perhaps not in game. |
| Stone Ghost Maggot Sample | Unknown, perhaps not in game. |
| Nightmare Mites | Unknown, perhaps not in game. |
| Yuttos' Helper | You can buy this from Yuttos Tools vendors, see waypoints above. |
| Carnival Fungus | You can buy this from Yuttos Tools vendors, see waypoints above. |
| Glass Snake | Unknown, perhaps not in game. |
| Henderson's Flower | Unknown, perhaps not in game. |
| Paper Mushroom | Unknown, perhaps not in game. |
| Orange Node Flower | Unknown, perhaps not in game. |
| Storage Tree Pollen | Unknown, perhaps not in game. |


You can combine the items like so:



Requires 4x the QL of the consumed ingredients in Field Quantum Physics (300).
Requires 5x the QL of the consumed ingredients in Electrical Engineering (375).

Requires 4x the QL of the consumed ingredients in Field Quantum Physics (400).
Requires 5x the QL of the consumed ingredients in Electrical Engineering (500).



Note that the item is not NODROP: you can ask your friendly neighbourhood Engineer or Trader to make it for you.




⇑

The Spirit Tech Source Fountain



The Source Excavator Shell can be right clicked to place it on the ground, where it will look like a small electric light instead of a camp fire. If you sit within 20 metres of it and aren't in a fight, you will slowly regenerate health and nano. The QL 75 version (Source Excavator Shell Effect) will renegerate 58-87 every two seconds and the QL 100 (Source Excavator Shell Effect) version 82-123. The fountain will last 30 minutes and then despawn. Although the materials come from Shadowlands, you don't need any expansions to use the item.

When you're not using it to heal, your little electric camp fire can also act as a tower! A stationary pet basically. You can make it attack a target with the command

/tower attack