Guard - Ulf Reinhart
Class:

All Classes

Faction:

All Factions

Level:

60-150

Item Links: Quicklink (copy this): Feedback: Feedback-Thread

You will find

Guard - Ulf Reinhart

Elysium North - 1467.4x1319.2

at the bottom of the bridge from Port 5 in Northern Elysium.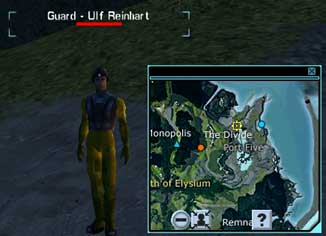 When you open dialog with him he gives a lot of background information, but there is also the opportunity to ask if you can help the scientists.

To help the scientists we received a mission called Predator Scanning, and for this we are going to need to tag the Predators in Elysium.

Many of you are familiar with the Predator bosses in Elysium, as they are perhaps one of the most camped mobs in this playfield as they drop Predator Armor, a sought-after armor for lower level characters. The mission has a timer of just 7 days... we live for the optimists in ourselves, right!

The

Predators

Elysium West - 760x950

are located at 760 x 950. They are shown on the Sphere map although they might be slightly away from their markers: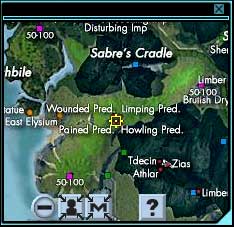 We need to tag each one in order. To tag simply pick up your scanner and click it onto the Predator. You will get mission complete messages for each one.




Note: If you manage to kill a Predator boss and some armor drops, loot it!

Once all are scanned, head back to Guard Ulf Reinhart and open dialog with him so you can tell him that you have scanned the Predators. Trade the scanner with him to complete your mission.

You will receive Specialization 2 (The Girl that saw it all), Chapter 2, 20k XP, 20k Credits, and the XP amount for a daily mission.



Last updated on 10.28.2021 by bitnykk
Written by Ukblizzard and Uragon
Image taken from Sphere Map for location
Many thanks to Fabur2 from Council of Sagitas for assistance during the scanning
Do you have questions about this article or found an error? 3 comment(s) - Click here to view them!