Antonio Stacklund's Upgrades
Class:

All Classes

Faction:

All Factions

Level:

All Levels

Item Links: Quicklink (copy this): Feedback: Feedback-Thread

⇑

Introduction





Antonio Stacklund

- 3442x834

can be found in the shopping area in Arete. Besides selling various weapons, he offers Antonio's Adaptation Factory for sale. This Adaptation Factory can be used to upgrade the starter weapons and to build various gadgets.

If you open dialog with him, he will gladly tell you about all the different upgrades the Adaptation Factory can be used for. This guide provides a summary, including the drop locations for the various required items.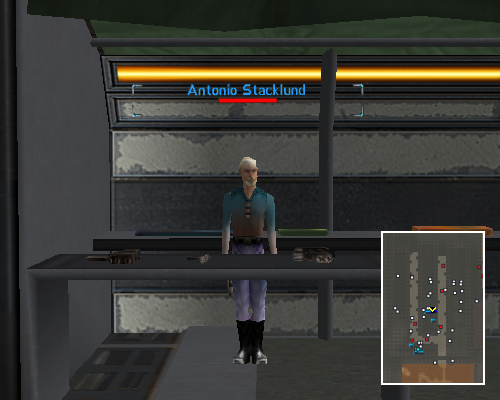 ⇑
Weapons
1h Blunt - Hand Staff of Naja
2h Blunt - Balanced War Hammer
2h Edged - Grip Blade
| | | | | |
| --- | --- | --- | --- | --- |
| | + | Minibulls, south of the lake. | = | |
Assault Rifle - BO-18 (Blue Offset)
Bow - Shaolin Sporting Bow
Grenade - Nizno's Bomb Thrower
Martial Arts - Strong Oak Bo
| | | | | |
| --- | --- | --- | --- | --- |
| | + | Minibulls, south of the lake. | = | |
Melee Energy - Surge Baseball Bat
| | | | | |
| --- | --- | --- | --- | --- |
| | + | 32-V Dockers, junk yard. | = | |
MG/SMG - Stabilized Silent Spitter
Piercing - Injector Dagger
Pistol - Electrical Surge Pistol
| | | | | |
| --- | --- | --- | --- | --- |
| | + | 32-V Dockers, junk yard. | = | |
Ranged Energy - Wave Heated Plasma Gun




Rifle - Cerset Zapper Rifle




Shotgun - Polished Eliminator








⇑

Other



Besides weapons, you can also build a few other things with Antonio's Adaptation Factory:



Range Meter



| | | | | |
| --- | --- | --- | --- | --- |
| | + | 32-V Dockers, junk yard. | = | |