Subscription Rewards
Class:

All Classes

Faction:

All Factions

Level:

All Levels

Item Links: Quicklink (copy this): Feedback: Please Login first

Since the 18.8.13 patch, new subscription rewards are no longer added to the Veteran Shops or bought with Veteran Points. While existing Veteran Points remain available on accounts that have them, new ones are no longer awarded.

Subscription rewards are now based on the number of days your account has been paid for. The count starts from the 18.8.13 patch, which was released in April 2016. If you open the in-game item store and click the

Claim Items

button, you get to see a little calendar icon in the top left with the number of days your account has been paid for. In my example screenshot it's 1770. Below it is a list with all the items you get to claim. Items you have not yet unlocked will show a grey, disabled, button. When you claim an item, it will be mailed to your character and you can pick it up in the nearest Mail terminal after a few minutes.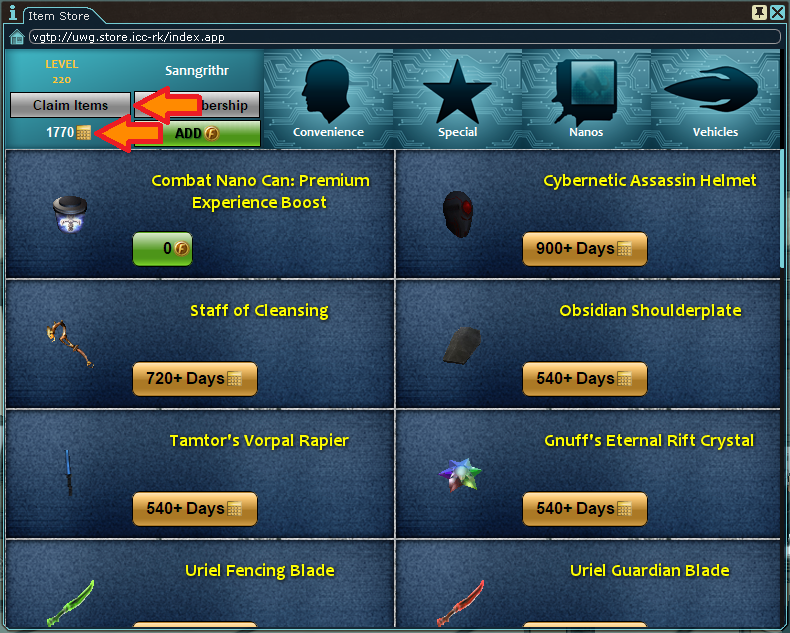 The following table shows all the rewards currently available, with the amount of subscription time to unlock them.


Subscribed

900 days
30 months
2½ year


Cybernetic Assassin Helmet

720 days
24 months
2 year


Staff of Cleansing

540 days
18 months
1½ year


Gnuff's Eternal Rift Crystal

540 days
18 months
1½ year


Obsidian Shoulderplate

540 days
18 months
1½ year


Tamtor's Vorpal Rapier

360 days
12 months
1 year

Character Slot

360 days
12 months
1 year


Heckler Juice - Level 60

360 days
12 months
1 year


Heckler Juice - Level 100

360 days
12 months
1 year


Uriel Cleric Blade

360 days
12 months
1 year


Uriel Fencing Blade

360 days
12 months
1 year


Uriel Guardian Blade

180 days
6 months


Crate of Energy Ammo

180 days
6 months


Dustbrigade Dunewalker Headgear

180 days
6 months


Signal Beacon: Meteo

90 days
3 months


Nano Crystal (Buckethead Techno-scavenger Costume)

90 days
3 months


Nano Crystal (Dr. Drill)

60 days
2 months


Vacuum Packed Digummy Skoot Armor

30 days
1 month


Membership Placard - Offline

30 days
1 month


The Beer and Booze T-Shirt

30 days
1 month


Tinfoil Hat