Mail System
Class:

All Classes

Faction:

All Factions

Level:

All Levels

Item Links: Quicklink (copy this): Feedback: Feedback-Thread

Across Rubi-Ka, almost all of the old reclaim terminals have been converted to Mail Terminals. The Mail Terminals can be used to access your private mail. You can send anything from communication, items and even credits.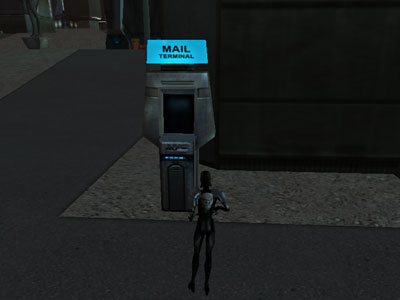 Mail Terminal.





⇑

Who can send mail?
Everyone with a paid account can send mail. However, while Froobs (Free Accounts) may receive mail from paid account players, they can not send it. At one point there was an option for Froobs to buy access to the mail via their account webpage with a one-time fee payment. (This may no longer exist).



⇑

How can I send mail?
Right-clicking on a Mail Terminal will bring up a window with your inbox in it. In the bottom left corner of this window, you will see a "new" button.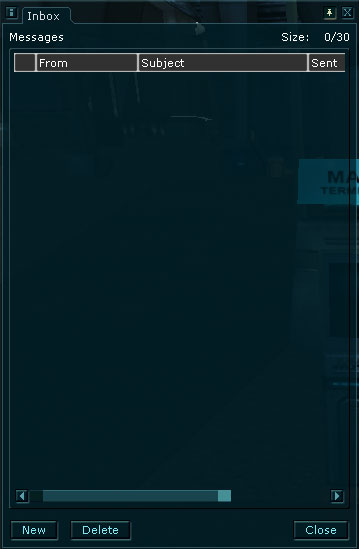 Mail Terminal Inbox.



The message box that should pop up after clicking "new" is how you send credits or items to another person. Let's look at what we need to fill in.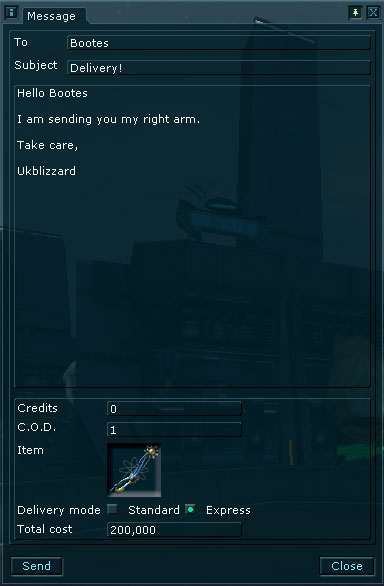 Example of the message you can send.





To

: This should be the character name you wish to send the message to, so make sure you spell it right! Alternatively, while you have the mail terminal open you can right click a name in your friends listing and select "mail <name>". You cannot send a message to yourself.



Subject

: Your message subject

Underneath subject is space for the body of your message, so if you want to leave a message, here is the place to do it.



Credits

: This is how many credits you wish to send



C.O.D

: This stands for Credits on Delivery. So, if you are sending an item you wish to be paid for, this is where you need to state how much you want back. It is important to note that some of these credits will not find their way to the seller as there is a 5% COD fee (this is on top of the normal delivery fee).



Item

: This is where you can enter the item you wish to deliver. You can only send 1 item at a time.



Delivery Mode

: You can choose here how quickly you want your delivery to be made.
- Standard delivery: 2000 credits, 30-35 minutes.
- Express delivery: 200000 credits, 2-7 minutes.



⇑

What can I send?


The Minimum credit amount to send is 4000 credits. You cannot send nodrops, backpacks, or temporary items.

When you are sending an item, you will see a small symbol showing over that item icon in your inventory up until you send the message with the equipment.



Symbol on item icon in inventory.



You can send up to 1 message a minute.

When you click send, a confirmation will appear which you will need to click to confirm that you want to send the message.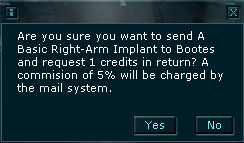 Confirmation message example.





⇑

How do I know when I have a message?


When you receive new mail, an icon appears on your screen.

I have the AOU MOD installed, so the image I get looks like this:



New mail icon.


When this icon appears, all you have to do is go to the nearest mail terminal to retrieve your mail.



⇑

Retrieving your mail


By right-clicking the terminal, your private messages will be displayed. Received messages are in the recipents inbox.

To read the mail, double click, and the message box will open. You can see from the image below that we now have some options.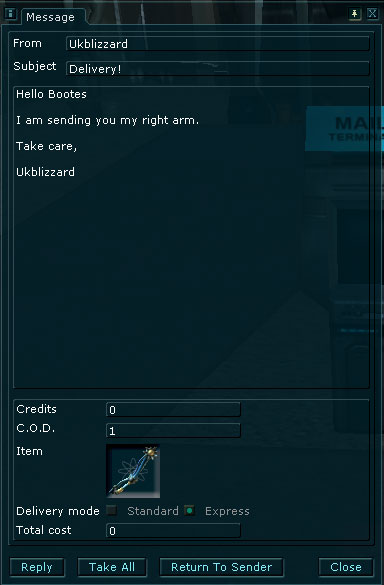 Received message.



By clicking reply, you can send a message back to whoever messaged you. This includes sending items and credits as well as your text.

By clicking take all, you agree to accept the item being sent and however much the C.O.D states. You will have to click a confirmation box if you select "Take all".

By clicking return, you obviously do not receive the item or credits being sent, however, you also do not have to pay any fees. There is no confirmation box with the return. You simply just send it all straight back.



⇑

Miscellaneous Information
Everyone has a maximum inbox size of 30 mails. When it is full, it means that no more mail can be received. Mail cannot be deleted manually unless all items sent are taken, (ie creds and items). However, mail does have a time-out period.

C.O.D mail will return to sender after the timeout period (2days) and stay in your inbox for 2 days after that.
A normal mail timeout is 14 days.

Any mail that times out will be deleted and items/credits will be lost (will not be reimbursed).



Last updated on 12.27.2021 by Cariadast
Written by Ukblizzard
Supporting information: 18.3 Patch notes
Do you have questions about this article or found an error? 3 comment(s) - Click here to view them!