Dyna-camps
Class:

All Classes

Faction:

All Factions

Level:

All Levels

Item Links: Quicklink (copy this): Feedback: Please Login first

⇑

Introduction



In order to encourage players to wander around in the great out-doors of Rubi-Ka, "dyna-camps" were introduced. These are "camps" are comprised of a glowing boss that are often surrounded by a group of regular mobs of the same type.

There are two main reasons why players would care about dyna-camps. First, the boss will give far more XP than regular mobs at the same level, and the mobs respawn quite quickly. Thus, dyna-camps provide a lot of XP, and can often be quite challenging when the level range of the regular mobs are high enough such that they will attack you or your team on sight.

The second reason why players are interested in dyna-camps is that the boss has a chance to drop many items that can not otherwise be purchased or obtained as a mission reward. (See our guide on Rubi-Ka missions and Clicksaver.) These items include: Nova Dillon Armor, Kirch Kevlar Armor, Sekutek Chilled Plasteel Armor, various Nano programs (usually in the form of instruction discs and including the much desired Nano Crystal (Nullity Sphere) and Nano Crystal (Nullity Sphere MK II) and the fabled Grid Armor.), Empty Data Receptacle Container, and profession/breed locked weapons that are desired for their usefulness in low-level PvP.

Also note that the regular mobs at dynacamps will drop items that are typical for that type of mob. For instance, cyborgs at dynacamps will drop Miy's Armor just like any other cyborg anywhere else on RK.



⇑

Where are Dyna-Camps



If you use Saavick's Map of Rubi-Ka then you can locate dyna camps by zooming into the map and locating the magenta dots with numbers above them, as show in the screenshot below.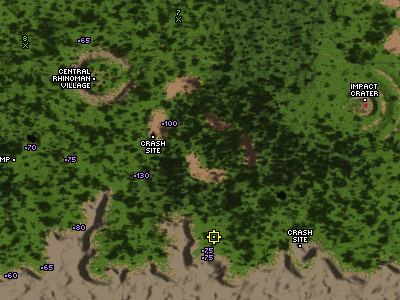 In the screenshot above, there are three dynacamps. The number indicates the approximate level of the dynacamp boss. The regular mobs will be 5 to 10 levels below the boss.

Alternatively, there is a table at the bottom of this guide listing nearly all the dynacamps on Rubi-Ka.



⇑

Types of Bosses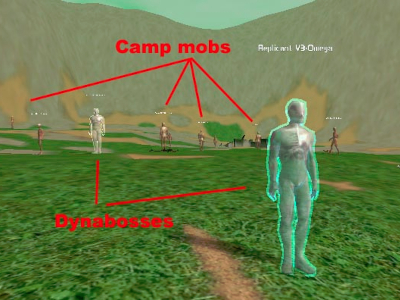 The screenshot above shows two dynacamps with identical monster types that are in close proximity to each other. Notice the two bosses in the image. Each glows with a different color. The color provides you information about characteristics of the boss.

A "basic" boss deals one particular type of damage, and is resistant against that type of damage. If you attack a boss that is shielded against that particular type of damage, your damage output will be greatly reduced. These boss colors and damage type are as follows:


| | |
| --- | --- |
| Color | Damage and Resistance |
| Deep Blue | Energy |
| Green | Chemical |
| Light Blue | Poison |
| Purple | Radiation |
| Red | Fire |
| White | Cold |


Slightly tougher bosses have the following attributes:


| | |
| --- | --- |
| Color | Attribute |
| Light Yellow | Lands critical hits on you very often. |
| Orange | Has a damage/reflect Shield. (Each time you hit the boss some of the damage will be reflected back and injure you.) |
| Yellow | Has absorb layers. (You will not injure the boss until you break through it's absorb layers. Focus on using one damage type against this type of boss, otherwise you'll need to break through each layer type until that damage type begins to injure the boss.) |


Finally there are a couple of types of bosses that have special attributes that make them particularly hard to kill. Their color and attributes are as follows:


| | |
| --- | --- |
| Color | Attribute |
| Pink | Has a huge amount of HP. (Far more HP than any boss or mob at that level will normally have.) |
| Grey | Rotating damage type. (Both the damage it deals as well as the damage it is resistant to changes every few seconds.) |


Note: the above colors also apply to Rubi-Ka team mission bosses as well.

Some bosses are stationary (will never move from the spot they are standing on -- particularly true of higher level bosses) and they will warp you to them if you try to run away, while other bosses will chase you around when they attack you.



⇑

Dyna-Camp strategy



Now that you understand that dynacamp bosses can be hard to kill and they are often (not always) surrounded by mobs that respawn quite quickly. You might want to adjust your strategy to insure you (and your teammates) survive an encounter with a dynacamp.

If you are high-level and the regular mobs (or even the boss) is so far below your level that their HP bars are grey to you, then none of the following advice is necessary. The regular mobs will not sympathetically aggro you when you attack the boss, and you are probably so powerful that you can kill the boss in a few hits because you are so much higher level than the boss.

However, if that is not the case, then blindly charging into a camp and killing your way to the boss is not a sound strategy. You will eventually find yourself in the middle of respawns of the regular mobs and you will probably become overrun. Similarly, pet classes should not simply send their pet in to attack the boss. Invariably the pet will not be able to maintain aggro on all the regular mobs and some of the aggro will "spill over" onto the pet owner. Consider the following tips:

Obviously, working in a team will improve your chances of successfully killing a dynacamp boss.

Identify a side of the camp that has fewer mobs and begin carefully pulling the mobs away one at a time. Kill the mob you have pulled, and repeat the process until you have a clear line to the boss. Then carefully pull only the boss away from the camp, so that you can take your time killing the boss. Note that all dyna camp regular mobs will wander around a bit. It may take some time to clear a path to the boss. This is great for practice careful pulling. It is usually possible to slowly approach the camp and pull away a single mob.

If your profession has calms or roots, you can carefully pull the regular mobs far away from the camp and calm or root them there. When the calm or root wears off they will be so far away that they will have lost aggro and simply stay in the area you have pulled them. Because you didn't kill them, they will not respawn at the camp. Because they are regular mobs, they are susceptible to calms and roots. Calming or rooting all the mobs at the camp and then pulling away the boss is another good strategy, but some bosses will not move from the camp.

Dealing with a tough boss often involves some "kiting" (running around while fighting). If you need to kite either the regular mobs or the boss, it is a good idea to do so away from the camp. For instance, Nanotechnicians can usually wipe out the entire camp with their area-of-effect nukes, leaving only the boss to kill because it often has far more HP than the regular mobs, however, if you continue to kite at the camp, the regular mobs will start to respawn and you may find yourself kiting forever.

Bosses can be rooted or snared.

Dynacamps are great locations to learn your profession's tool set and learn proper pulling technique as well the art of kiting. Happy hunting!



⇑

Table of Dyna-camps on Rubi-Ka




Monster Type




Approx Boss Level




Mob Levels




Playfield




Coordinates





Blubbags

Aegean - 1740x1940



20

15-20

Aegean

1740x1940



Blubbags

Aegean - 1710x1720



30

25-30

Aegean

1710x1720



Blubbags

Aegean - 1680x1730



30

25-30

Aegean

1680x1730




35

25-30

Aegean

1420x2620




35

25-30

Aegean

1580x2780




35

25-30

Aegean

2100x2340




40

30-35

Aegean

1340x1900




50

40-45

Aegean

980x380




50

40-45

Aegean

1620x2060



Rollerrats

Aegean - 1860x2780



50

40-45

Aegean

1860x2780




60

45-50

Aegean

2140x980



Mantezes

Aegean - 1420x700



60

45-50

Aegean

1420x700



Mantezes

Aegean - 1180x940



60

45-50

Aegean

1180x940



Mechdogs

Aegean - 1100x1700



60

45-50

Aegean

1100x1700



Androids

Aegean - 860x2340



65

50-55

Aegean

860x2340



Tentacle Mutant

Aegean - 660x820



70

(no mobs)

Aegean

660x820



Androids

Aegean - 380x2300



70

55-60

Aegean

380x2300




70

55-60

Aegean

820x980




75

60-65

Aegean

1300x1530



Mantezes

Aegean - 2060x740



75

60-65

Aegean

2060x740




75

60-65

Aegean

460x340



Leets

Andromeda - 1380x2700



40

30-35

Andromeda

1380x2700



Hammerbeasts

Andromeda - 1700x2740



45

35-40

Andromeda

1700x2740



Scorpiods

Andromeda - 1220x2100



50

40-45

Andromeda

1220x2100



Shadowmutants

Andromeda - 3020x2220



70

50-55

Andromeda

3020x2220



Hounds

Andromeda - 460x580



70

55-60

Andromeda

460x580



Snakes

Andromeda - 1180x1420



80

60-65

Andromeda

1180x1420



Hammerbeasts

Andromeda - 4180x420



85

70-75

Andromeda

4180x420



Spiders

Andromeda - 2940x2020



95

75-80

Andromeda

2940x2020



Spiders

Andromeda - 2220x1500



95

75-80

Andromeda

2220x1500



Shadowmutants

Andromeda - 4520x1150



100

80-85

Andromeda

4520x1150



Snakes

Andromeda - 3020x300



105

85-90

Andromeda

3020x300



Pit Lizards

Belial Forest - 1450x665



175

160-165

Belial Forest

1450x665



Enigmas

Belial Forest - 1660x3100



135

110-115

Belial Forest

1660x3100



Ottous

Belial Forest - 2120x2980



135

110-115

Belial Forest

2120x2980



Ninjadroids

Belial Forest - 380x2260



150

125-130

Belial Forest

380x2260



Bileswarms

Belial Forest - 1700x2580



160

(no mobs)

Belial Forest

1700x2580



Ninjadroids

Belial Forest - 2500x2140



160

135-140

Belial Forest

2500x2140



Enigmas

Belial Forest - 580x1820



165

135-140

Belial Forest

580x1820



Ninjadroids

Belial Forest - 2200x2510



165

135-140

Belial Forest

2200x2510



Snakes

Belial Forest - 460x780



170

140-145

Belial Forest

460x780



Quake Lizards

Belial Forest - 820x1940



175

135-140

Belial Forest

820x1940



Quake Lizards

Belial Forest - 900x740



175

135-140

Belial Forest

900x740



Snakes

Belial Forest - 1700x1380



180

150-155

Belial Forest

1700x1380



Nanofreaks

Belial Forest - 1660x1780



185

151-155

Belial Forest

1660x1780



Snakes

Belial Forest - 1500x2100



190

155-160

Belial Forest

1500x2100



Snakes

Belial Forest - 1780x1140



190

155-160

Belial Forest

1780x1140



Pit Lizards

Belial Forest - 820x1340



195

155-160

Belial Forest

820x1340



Pit Lizards

Belial Forest - 1480x640



195

160-165

Belial Forest

1480x640



Snakes

Belial Forest - 2380x1460



200

160-165

Belial Forest

2380x1460



Nanofreaks

Belial Forest - 2380x740



205

165-170

Belial Forest

2380x740



Biledrinkers

Belial Forest - 2300x1260



205

170-175

Belial Forest

2300x1260



Biledrinkers

Belial Forest - 1700x540



210

170-175

Belial Forest

1700x540



Cyborgs

Central Artery Valley - 1380x2740



120

95-100

Central Artery Valley

1380x2740



Enigmas

Central Artery Valley - 1700x2500



120

100-105

Central Artery Valley

1700x2500



Spiders

Central Artery Valley - 860x2380



130

105-110

Central Artery Valley

860x2380



Spiders

Central Artery Valley - 460x2380



135

110-115

Central Artery Valley

460x2380



Anuns

Central Artery Valley - 420x1060



145

115-120

Central Artery Valley

420x1060



Spiders

Central Artery Valley - 940x1860



145

115-120

Central Artery Valley

940x1860



Spiders

Central Artery Valley - 3380x1380



145

120-125

Central Artery Valley

3380x1380



Spiders

Central Artery Valley - 500x1700



150

120-125

Central Artery Valley

500x1700



Spiders

Central Artery Valley - 2340x340



150

120-125

Central Artery Valley

2340x340



Snakes

Central Artery Valley - 3220x1620



150

125-130

Central Artery Valley

3220x1620



Enigmas

Central Artery Valley - 2380x2340



155

130-135

Central Artery Valley

2380x2340



Enigmas

Central Artery Valley - 2620x2820



160

130-135

Central Artery Valley

2620x2820



Snakes

Central Artery Valley - 380x420



160

130-135

Central Artery Valley

380x420



Anuns

Central Artery Valley - 3580x2940



165

130-135

Central Artery Valley

3580x2940



Enigmas

Central Artery Valley - 1340x860



170

135-140

Central Artery Valley

1340x860



Enigmas

Central Artery Valley - 940x1540



170

140-145

Central Artery Valley

940x1540



Nanofreaks

Central Artery Valley - 2660x300



205

165-170

Central Artery Valley

2660x300



Snakes

Central Artery Valley - 3540x1420



215

175-180

Central Artery Valley

3540x1420



Snakes

Central Artery Valley - 2500x1900



245

200-205

Central Artery Valley

2500x1900



Snakes

Central Artery Valley - 2500x1900



275

200-205

Central Artery Valley

2500x1900



Rhinomen

Newland Desert - 1260x2540



15

10-15

Newland Desert

1260x2540



Rhinomen

Newland Desert - 1340x2340



15

10-15

Newland Desert

1340x2340



Eyemutants

Newland Desert - 2180x2740



20

15-20

Newland Desert

2180x2740



Rhinomen

Newland Desert - 740x2390



30

(no mobs)

Newland Desert

740x2390



Buzzsaws

Newland Desert - 2820x700



30

20-25

Newland Desert

2820x700



Brontos

Newland Desert - 2340x1060



30

20-25

Newland Desert

2340x1060



Lizards

Newland Desert - 340x1740



30

20-25

Newland Desert

340x1740



Fleas

Newland Desert - 3260x2900



35

25-30

Newland Desert

3260x2900



Rhinomen

Newland Desert - 1460x2140



40

30-35

Newland Desert

1460x2140



Salamanders

Newland Desert - 2740x2460



40

30-35

Newland Desert

2740x2460



Scorpiods

Newland Desert - 2620x300



40

30-35

Newland Desert

2620x300



Snakes

Newland Desert - 2100x2220



40

30-35

Newland Desert

2100x2220



Leets

Newland Desert - 1220x2900



40

30-35

Newland Desert

1220x2900



Leets

Newland Desert - 740x2900



40

30-35

Newland Desert

740x2900



Leets

Newland Desert - 460x2380



40

30-35

Newland Desert

460x2380



Scorpiods

Newland Desert - 2340x660



40

30-35

Newland Desert

2340x660



Rhinomen

Newland Desert - 1700x1580



40

30-35

Newland Desert

1700x1580



Minibulls

Newland Desert - 3420x2100



50

40-45

Newland Desert

3420x2100



Rhinomen

Newland Desert - 3490x1300



55

40-45

Newland Desert

3490x1300



Rhinomen

Newland Desert - 2820x1220



60

45-50

Newland Desert

2820x1220



Rhinomen

Newland Desert - 2660x1460



65

50-55

Newland Desert

2660x1460



Rhinomen

Newland Desert - 2810x1640



65

50-55

Newland Desert

2810x1640



Rhinomen

Newland Desert - 2820x1620



65

50-55

Newland Desert

2820x1620



Reets

Omni Forest - 660x2540



5

3-4

Omni Forest

660x2540



Blubbags

Omni Forest - 540x2190



5

3-4

Omni Forest

540x2190



Malle

Omni Forest - 380x1500



10

3-5

Omni Forest

380x1500



Igruana

Omni Forest - 380x3180



10

5-6

Omni Forest

380x3180



Biofreak

Omni Forest - 380x1300



10

5-7

Omni Forest

380x1300



Blubbags

Omni Forest - 540x2860



10

6-8

Omni Forest

540x2860



Leets

Omni Forest - 380x820



10

7-8

Omni Forest

380x820



Shadowmutants

Omni Forest - 300x1060



10

8-10

Omni Forest

300x1060



Tentacle Mutants

Omni Forest - 850x3260



15

11-13

Omni Forest

850x3260



Pareets

Omni Forest - 300x620



15

11-13

Omni Forest

300x620



Aquaans

Omni Forest - 540x660



15

12-14

Omni Forest

540x660



Nighthowler

Omni Forest - 660x1340



15

12-14

Omni Forest

660x1340



Rhinomen

Omni Forest - 620x340



20

15-17

Omni Forest

620x340



Fleas

Omni Forest - 540x1020



25

17-19

Omni Forest

540x1020



Mantis

Perpetual Wastelands - 1160x1145



105

76-90

Perpetual Wastelands

1160x1145



Cyborgs

Perpetual Wastelands - 1935x1380



105

85-90

Perpetual Wastelands

1935x1380



Cyborgs

Perpetual Wastelands - 1950x1390



110

85-90

Perpetual Wastelands

1950x1390



Anuns

Perpetual Wastelands - 3060x920



130

105-110

Perpetual Wastelands

3060x920



Mantis

Perpetual Wastelands - 1460x860



165

135-140

Perpetual Wastelands

1460x860



Mantis

Perpetual Wastelands - 2660x2300



165

135-140

Perpetual Wastelands

2660x2300



Anuns

Perpetual Wastelands - 380x500



175

145-150

Perpetual Wastelands

380x500



Anuns

Perpetual Wastelands - 380x900



175

145-150

Perpetual Wastelands

380x900



Anuns

Perpetual Wastelands - 460x3140



185

150-155

Perpetual Wastelands

460x3140



Anuns

Perpetual Wastelands - 700x2460



185

150-155

Perpetual Wastelands

700x2460



Anuns

Perpetual Wastelands - 1260x2860



185

150-155

Perpetual Wastelands

1260x2860



Anuns

Perpetual Wastelands - 1340x3060



185

150-155

Perpetual Wastelands

1340x3060



Sandworms

Perpetual Wastelands - 420x1500



190

145-150

Perpetual Wastelands

420x1500



Mantis

Perpetual Wastelands - 2080x2770



195

75-180

Perpetual Wastelands

2080x2770



Mantis

Perpetual Wastelands - 2460x2660



200

165-170

Perpetual Wastelands

2460x2660



Mantis

Perpetual Wastelands - 2740x2460



200

165-170

Perpetual Wastelands

2740x2460



Mantis

Perpetual Wastelands - 2980x2940



200

165-170

Perpetual Wastelands

2980x2940



Mantis

Perpetual Wastelands - 3100x3260



200

165-170

Perpetual Wastelands

3100x3260



Anuns

Perpetual Wastelands - 3520x2020



200

165-170

Perpetual Wastelands

3520x2020



Mantis

Perpetual Wastelands - 2220x3340



205

165-170

Perpetual Wastelands

2220x3340



Sand Demon

Perpetual Wastelands - 3940x1780



210

(no mobs)

Perpetual Wastelands

3940x1780



Cyborgs

Perpetual Wastelands - 3460x2940



235

171-190

Perpetual Wastelands

3460x2940



Cyborgs

Perpetual Wastelands - 3475x2980



245

171-190

Perpetual Wastelands

3475x2980



Lizards

Varmint Woods - 1740x2660



20

15-20

Varmint Woods

1740x2660



Lizards

Varmint Woods - 1020x2740



30

20-25

Varmint Woods

1020x2740



Leets

Varmint Woods - 3340x2860



40

30-35

Varmint Woods

3340x2860



Rhinomen

Varmint Woods - 1020x300



60

45-50

Varmint Woods

1020x300



Blubbags

Varmint Woods - 1300x2340



60

51-56

Varmint Woods

1300x2340



Blubbags

Varmint Woods - 3060x2220



65

50-55

Varmint Woods

3060x2220



Rhinomen

Varmint Woods - 1220x340



65

50-55

Varmint Woods

1220x340



Spiders

Varmint Woods - 1420x1540



65

50-55

Varmint Woods

1420x1540



Manteze

Varmint Woods - 4020x1780



65

55-60

Varmint Woods

4020x1780



Rhinomen

Varmint Woods - 1140x980



70

55-60

Varmint Woods

1140x980



Manteze

Varmint Woods - 700x2180



75

60-65

Varmint Woods

700x2180



Manteze

Varmint Woods - 580x2540



75

60-65

Varmint Woods

580x2540



Manteze

Varmint Woods - 4060x1340



75

60-65

Varmint Woods

4060x1340



Rhinomen

Varmint Woods - 1340x900



75

60-65

Varmint Woods

1340x900



Rhinomen

Varmint Woods - 1940x1860



75

60-65

Varmint Woods

1940x1860



Unfinished Breed

Varmint Woods - 2040x420



75

60-65

Varmint Woods

2040x420



Unfinished Breed

Varmint Woods - 2040x400



75

60-65

Varmint Woods

2040x400



Manteze

Varmint Woods - 4220x380



80

65-70

Varmint Woods

4220x380



Rhinomen

Varmint Woods - 1380x540



80

65-70

Varmint Woods

1380x540



Rhinomen

Varmint Woods - 1860x1100



100

80-85

Varmint Woods

1860x1100



Bileswarms

Varmint Woods - 1700x820



130

105-110

Varmint Woods

1700x820



Biofreaks

Wailing Wastes - 340x1060



45

35-40

Wailing Wastes

340x1060



Blubbags

Wailing Wastes - 1100x2020



50

35-40

Wailing Wastes

1100x2020



Rollerrats

Wailing Wastes - 1740x1220



50

35-40

Wailing Wastes

1740x1220



Clawfingers

Wailing Wastes - 1140x1700



50

40-45

Wailing Wastes

1140x1700



Hounds

Wailing Wastes - 1580x1140



50

40-45

Wailing Wastes

1580x1140



Hounds

Wailing Wastes - 1420x1140



50

40-45

Wailing Wastes

1420x1140



Hounds

Wailing Wastes - 1380x1380



50

40-45

Wailing Wastes

1380x1380



Blubbags

Wailing Wastes - 1700x1740



55

40-45

Wailing Wastes

1700x1740



Blubbags

Wailing Wastes - 2300x1340



55

40-45

Wailing Wastes

2300x1340



Blubbags

Wailing Wastes - 2420x1340



60

45-50

Wailing Wastes

2420x1340



Scorpiods

Wailing Wastes - 540x1460



60

45-50

Wailing Wastes

540x1460



Spiders

Wailing Wastes - 1980x2580



60

45-50

Wailing Wastes

1980x2580



Spiders

Wailing Wastes - 620x3060



65

50-55

Wailing Wastes

620x3060



Blubbags

Wailing Wastes - 2340x1420



65

55-60

Wailing Wastes

2340x1420



Spiders

Wailing Wastes - 1260x2540



70

55-60

Wailing Wastes

1260x2540



Spiders

Wailing Wastes - 1340x2500



70

55-60

Wailing Wastes

1340x2500



Blubbags

Wailing Wastes - 2340x1500



75

50-55

Wailing Wastes

2340x1500



Hammerbeasts

Wailing Wastes - 980x3300



90

70-75

Wailing Wastes

980x3300



Hammerbeasts

Wailing Wastes - 1540x3340



90

70-75

Wailing Wastes

1540x3340



Hammerbeasts

Wailing Wastes - 1700x3380



90

70-75

Wailing Wastes

1700x3380