Shopping Guide
Class:

All Classes

Faction:

All Factions

Level:

All Levels

Item Links: Quicklink (copy this): Feedback: Please Login first

What's different with Alien Invasion?


The answer is player shops!

Player shops mean that a player can set up a shop with each character he has in a guild (be sure to ask the leader of your organization if you are allowed to have more than one shop per player). These shops have added thousands of items which can easily be found through the Global Market Search terminal, available in the largest cities like: Omni-Trade, Omni-1 Entertainment, Rome, Borealis, Newland, Tir, Athen. They all look the same, so you won't have to look for different terminals.



Do I have access to any shop?


No, only your own faction and the neutral side. Which means that if you're clan you can only buy items from a clan shop or a neutral shop, same goes for omni. After all clan and omni are enemies.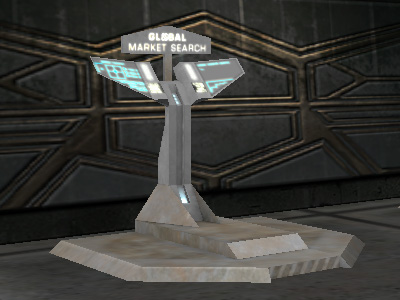 A Global Market Search terminal.





How does the search work?


The interface is easy, right click on the terminal and a menu will pop up with easy to use settings as shown below.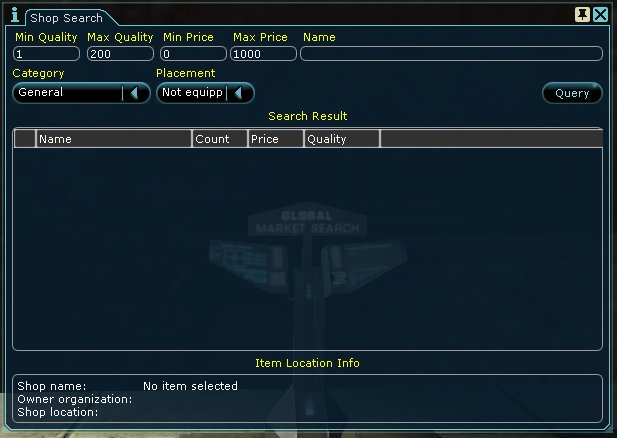 You can set Minimum and Maximum Quality (QL) of the item you're looking for, same goes for the price. Be sure to type the name correctly (if you don't have the entire name of the item, try using the first few letters of it). The Categories cover everyting from armor, weapons, symbiants/implants, NCU items and more. Once you 'Query' for the item the result will show (if any match is found) with details.

By selecting one of the items in the search result list coordinates will be automatically uploaded to your world map; so be sure you selected the right item, you don't want to go all the way to the wrong shop.

Be aware that even though you found the item it does not guarantee that it will be there when you reach the shop, after all someone could have done the same search a few minutes before you did and be already on his way to get the item.

You can only have one shop location on your world map at a time, this means you can't upload a couple and then go to one and then the next right away.

Try to be familiar with The Grid and Whom-Pahs so that you can travel to your destination using the shortest route possible. Don't go too far without a yalmaha or you will take a lot of time to get there.

Note: Most player cities have a Whom-Pah to the club 'Neuters r Us' which is located in Newland City, use it to get back to a Global Market Search terminal fast to continue looking for items you want. It's a neutral town with a grid terminal right outside the city (go out, make a left and run a few seconds, you will see the terminal surrounded by a small wall).